It doesn't even need to be said that I'm a huge fan of the Monster Energy Drink. The stuff is so good, I try not to have any more than one every other day (and I might add that I fail miserably on certain days...).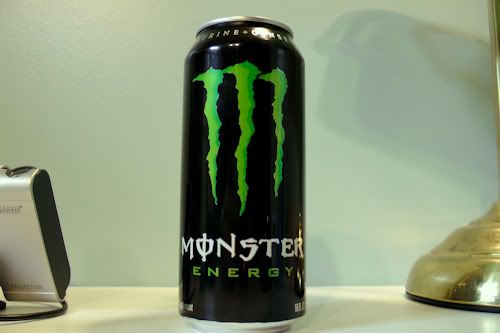 When I first has a can of Monster, I was impressed by its power, though not so much its taste. Considering the price, I thought I'd keep it in mind for emergencies when I just needed that serious kick. About a month later, I tried another one...this time I thought it tasted better, though I still wasn't convinced it was worth it for such a high price. But that's when I found it! A no-name brand of the same product--for a third of the price! This stuff tasted exactly the same, and I started to become a regular customer. (I know you're probably confused where I'm going with this, so just hold on...) But one day, in a rush, I grabbed a Monster. I immediately noticed the taste was a tad bit more real than the no-name brand product...but the price still just wasn't completely worth it to me, so I stuck with the other product.
Fast-forward a bit, and I found a great deal on a large pack of Monster, so I splurged. A few weeks later, and half-way through the pack, I was given the mimic product. My complexion changed instantly after the first sip. "This stuff tasts like CARDBOARD!" I reluctantly finished the can, because it was all I had for energy. I realized that Monster tasted a LOT different, and that product was just an unconvincing mimic.
How true that is for us as Christians! We have our own perception of who we think God is, we read a little about Him occasionally, and we fill in the details with our own reasoning. Yes, we acknowledge the power of God, but we see Him through our fleshly-minded lens. We often wonder if knowing Him fully is worth the price to be paid--to be holy as He is holy. We save God for our emergencies, those times "when we need Him." Then we fall for the alternative products, religion of our own making. To us it tastes the same, looks the same, and is easier to come by. But until we taste the true presence of God, and until we find out who God really is, we will think our religion is gospel-truth since it is the very lens with which we view God.
II Corinthians 13:5 says, "Examine yourselves as to whether you are in the faith. Test yourselves. Do you not know yourselves, that Jesus Christ is in you? --unless indeed you are disqualified." The only way we can be sure we are in the faith is to compare our perception of reality with reality itself--the Word of God. Most often we will find our perception of the original to be nothing more than a cardboard-tasting mimic. If we are rooted in the truth, we will notice the other products for what they are--counterfeits and impostors, demonic spirits masquerading as spirits of light. I John 4:1 says, "Beloved, do not believe every spirit, but test the spirits, whether they are of God; because many false prophets [impostors] have gone out into the world."